Vanson Leathers Royale Enfield Leather Jacket, Size 44, RARE Octagon Tan Leather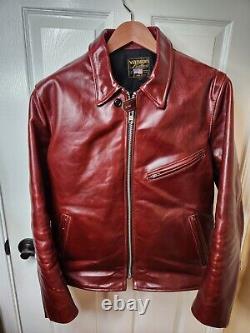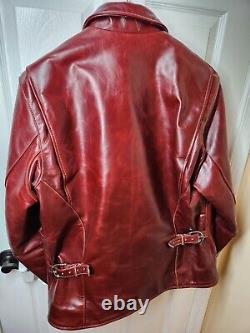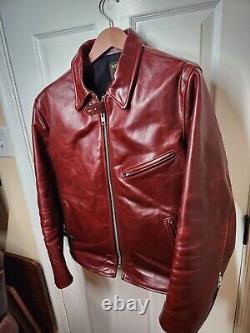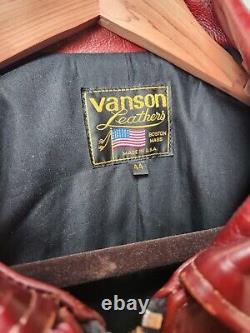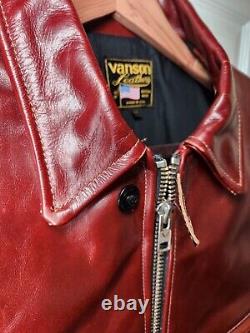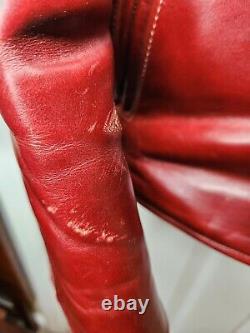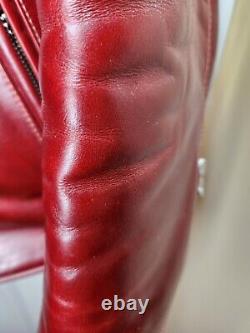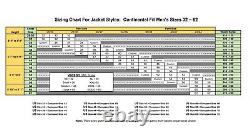 Vanson Leathers Royale Enfield Leather Jacket, size 44 (in RARE "Steer-XL Octagon Tan" leather). I absolutely love this jacket, and have used it very lightly for a few years.
Bought it in mid 2019, and stopped wearing it in 2022. It's never been in the rain, and despite being a biker jacket I don't actually ride a motorcycle. The jacket is in perfect condition except for one minor spot on a sleeve where it grazed the zipper. I'm confident a bit of leather balm would take care of that with no problem, but also figured it's best to leave that treatment to the next owner of this jacket.
I marked this jacket as "rare" because this particular model is a special-order item from Vanson with a very long lead time. Even back before the pandemic, it took 5 months for them to get this to me. Beyond that, the leather on this jacket is really special.
I can't find any evidence that Vanson still offers this leather. It is extremely thick and heavy, and as you can see on the pictures it has a ton of color depth.
It's got a really tight grain pattern, and I've read some people compare it to thick horsehide. Key point on pricing: I'm open to offers, but not to anything crazy. If this doesn't sell my fallback plan is to send it back to Vanson for them to tailor it to my new size. Description from Vanson's website. When the Vanson ROYALE (ENFIELD) JACKET was first conceived, the idea was to trim out the fit of the full-cut Vanson Enfield mens jacket to have a more contemporary model to add to our Metro Collection. Much of the Metro Collection consists of the "old" becoming "new" again. But the ROYALE (ENFIELD) JACKET is really more about current styles than a reproduction of something from the past.
In some ways a leather motorcycle jacket reflects the mood of the country at any given time, and in that sense it becomes a product of those times. So it is with the Vanson ROYALE (ENFIELD) JACKET. Ronald Reagan was president and the country was feeling confident once again - comfortable in its abilities, not afraid of standing for an ideal, moving ahead in what seems in retrospect to have been a simpler world. These sentiments are captured in the design elements of the Vanson ROYALE (ENFIELD) JACKET. They include: casual in the use of a shirt-style collar.
Comfortable in the use of open-top, leather-lined hand pockets. Confident in the use of large panels with a one-piece back that requires careful hide selection and cutting. Casual leather street riding jacket. City-style jacket with open hand pockets one piece back.
Bi-Swing action back for greater movement. 1 Interior pocket - button-closed. 1 Zip-close exterior chest pocket. 2 Zip-close exterior hand pockets.
Windtight low-bulk zip close sleeves.

---