Chrome Hearts Special Edition HEAVY SILVER 1 of 1 JJ Dean Leather Biker Jacket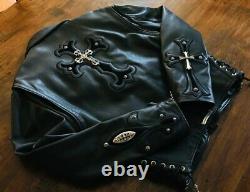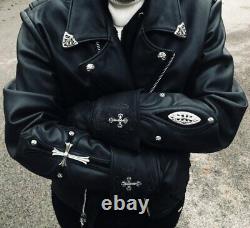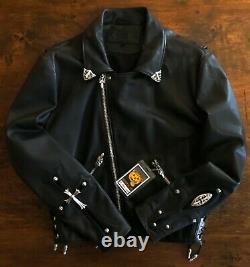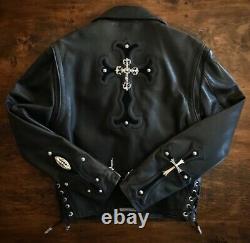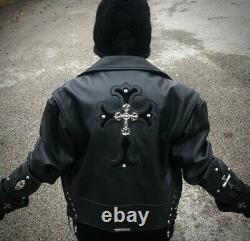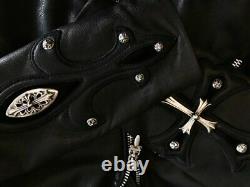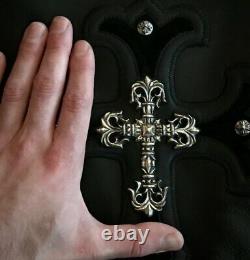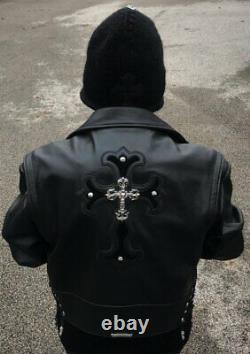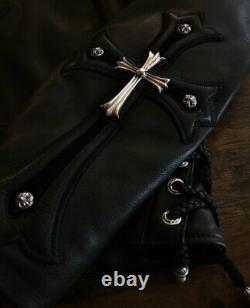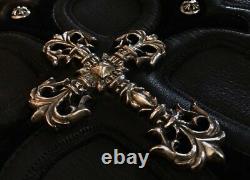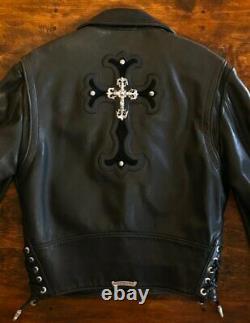 Chrome Hearts Special Edition HEAVY SILVER. (1 of 1) JJ Dean Black Leather Biker Jacket. (PLEASE SEE ADDITIONAL PHOTOS AT END OF THE DESCRIPTION). This is, beyond a doubt, the most excessively luxurious Chrome Hearts piece Ive come across in my 30 years as a. This jacket is the only of its kind - it is a.
A Special Edition By Order Only. Status, this jacket is in pristine condition - like new is an understatement. The former owner found the coat to be (in his own words) too heavy. Adding to this already stunning excess piece, is a genuine VIP Backstage Pass to the famous (perhaps infamous is a better word) rock group The Rolling Stones 1994 Voodoo Lounge World Tour Voodooween concert on October 29th, 1994 at the Warfield Theater in San Francisco, California.
Any Chrome Hearts collector will know just how perfectly fitting this rare, vintage clipped on accessory truly is - as the Chrome Hearts brand has been collaborating with the Rolling Stones for decades - releasing hundreds of Stones Themed designs throughout the years. The front of the backstage pass features a grinning Jack OLantern with stuck out and stud covered tongue. Voodooween above the Jack OLanterns head, followed by the date and location of the concert. At the very bottom, handwritten - Brisbane Guest. The back of the VIP pass states 1994 Voodoo Lounge World Tour, Voodooween, October 29th, 19994, Warfield Theater, San Francisco, Ca.
Note that the pass is attached to a zipper pull by means of a metal clasp, meaning this pass can be removed if desired. Personally, I believe it belongs on the jacket - only adding to the rarity of this already nearly non-existent one of one Chrome Hearts piece. This Chrome Hearts jacket is of the rare and highly sought after JJ Dean Biker Jacket model line.
However, it stands alone amongst other JJ Dean Chrome Hearts Biker Jackets because of its HEAVY silver composition, and entirely unique design. Back in the 90s, this specific Cross and Fleur-de-lis JJ Dean Jacket was a.
From a stylistic standpoint, this is every bit old school Chrome Hearts. Theres nothing subtle about this jacket.
It is heavy, bold, aggressive, loud. The piece hails from a day when Chrome Hearts did everything in excess.
Nowadays, theyve scaled back some. Their jewelry, smaller scale - less bulky. These days, the brand is not immediately identifiable. You have to really look for that small, often times hidden Chrome Hearts logo.
The beauty of this jacket, is it is instantly identifiable as a Chrome Hearts piece. Theres no mistaking that gleam of the ridiculous amount of sterling silver on this jacket no mistaking that uniquely Chrome Hearts design scheme. From a leather standpoint, what is there to say? If you know Chrome Hearts, than you already know the brand doesnt work with inferior leathers. However, vintage Chrome Hearts leather pieces are different from their modern day leather ensembles. Vintage Chrome Hearts leather is through and through - leather. Meaning, this is not some lightweight, thin leather windbreaker - this is thick, heavy, padded leather armor. Yes, it is indeed armor in a sense, as this isnt just a biker jacket from an aesthetics standpoint. For those brave enough, this is a perfectly functional, highly protective riding jacket. That said, I myself would rather lose a layer of skin - than run this perfectly conditioned Chrome Hearts one of one time capsule up against course asphalt I could sit here and discuss the jackets quality, heavy leather build all day - but Id not be a step closer to doing it justice.
In short, it is plush, thick, soft, malleable, without tears, stains, frays, dulling - or imperfections of any kind. The jacket combines that of both this deep black leather, as well as a deep black suede.
There are embroidered raised leather elements throughout. On the left sleeve, a beautifully embroidered, meticulously seamed Chrome Hearts leather Cross. The cross is filled in with black suede. On the right sleeve, a perfectly composed raised embroidered leather Fleur-de-lis - again filled in with black suede. On the back, a massive raised embroidered leather cross, black suede fill.
Of course, the star of the show there are. (53) individual Chrome Hearts solid silver accessories on this jacket. Just take that in for a moment. Im no stranger to the Chrome Hearts leather jacket scene yes, they are out there (though increasingly rare) but there is NOTHING out there that will remotely compete with the sheer amount of silver present on this jacket.
I highly encourage you to look. What youll find is that the vast of majority of JJ Dean Chrome Hearts jackets leather jackets out there have blank sleeves, blank backs, blank collar tips In other words, there is. Silver at play (besides a singular silver dagger zipper pull at the front, and a few silver buttons at the front - if that). The thing with this JJ Dean jacket, is its 53 solid silver inserts arent low key. Silver Composition of Jacket Front.
10 Chrome Hearts Raised Cross Buttons (sleeves). 2 Chrome Hearts XL Raised Cross Buttons (lapels). 1 Large Chrome Hearts Bezeled Cross (right sleeve) 7.5 cm height by 5 cm wide. 1 Large Chrome Hearts Ovular Ornate Cross (right sleeve). 6.5 cm height by 2.5 cm wide. 2 XL Bold Byzantine Collar Tips (tips of both collars) 3.5 cm height by 4cm wide. 3 Large Size Chrome Hearts Dagger Zipper Pulls (pockets, main closure). 4.5 cm height by 1.5 cm wide. Silver Composition of Jacket Interior. 2 Large Size Chrome Hearts Dagger Zipper Pulls (left inside pocket, right inside pocket). Silver Composition of Jacket Sides.
20 Chrome Hearts Scroll Rivets (10 at left side, 10 at right side). 4 Chrome Hearts Ornate Bold Tassels (2 at left side, 2 at right side).
2 Large Size Chrome Hearts Dagger Zipper Pulls (1 at left sleeve, one at right sleeve). Silver Composition of Jacket Back.
1 XL (LARGEST SIZE MODEL) Filigree Cross (center back). 10.5 cm height by 7.7 cm wide! 4 Chrome Hearts Raised Cross Buttons (center back).
1 Chrome Hearts Scroll Logo (bottom back). Total Chrome Hearts Silver Accessories: 53. Zipper pockets on this jacket. The zipper track lines are solid silver, the. Zipper pulls on each pocket.
Chrome Hearts Large Size Silver Daggers. Two of these pockets are at the front of the jacket (left and right side).
Likewise, there are two zipper pockets at the. The interior lining of this jacket is monogrammed Chrome Hearts. The interior lining is entirely flawless, impeccably conditioned (as is the rest of the jacket).
Along both sleeves, there are zipper track lines - again with Chrome Hearts Large Silver Dagger pulls. These zipper track lines allow for the wearer to keep the sleeves open (unzipped) or closed tight around the wrist (zipped up). I have to say that the zippered sleeves are more than just practical. The Silver Daggers dangle off the cuffs in a beautiful way. If you are on of those brave enough to wear this while riding, the silver daggers were designed at the cuffs to hang down, fluttering in the wind as you grip the bikes handles.
The lapels at the front are capped in XL Chrome Hearts Silver Cross Buttons at the corners. It should be noted that the lapels can tucked to the interior, allowing this jacket to be zipped all the way up. At the collar, there are two.
Ornate Solid Silver Chrome Hearts Collar Tips. These are stamped Chrome Hearts, 1991 at both backs - three years after the brands founding date of 1988.
Moving on to the back of the jacket, of course the first thing that will draw your eye is the MASSIVE Cross design at the back center. A cross within a cross. The outer cross is embroidered leather, raised in nature, finitely and perfectly seamed. This leather cross is filled entirely in midnight black suede. The focal point of the back design is the EXTRA LARGE famous Chrome Hearts Filigree Cross.
At the center on the back bottom helm there is a large, thick solid silver Chrome Hearts Scroll Plaque - as with all silver elements on this piece, perfectly inlaid. At the bottom of the jackets left and right side, the Chrome Hearts braided leather cords.
These braided leather cords (capped in HEAVY, bold, bulky silver tassels) are yet another example of standalone Chrome Hearts pieces meshed into this jacket. Each cord is threaded through 10 silver scroll Chrome Hearts rivets (10 on each side, 20 silver rivets total). Even the inside tag on this ultra rare excess piece breathes individuality. These days, Chrome Hearts apparel bears a cotton tag - printed, mass produced, nothing special.
This tag is thick black leather, entirely hand embroidered, seamlessly woven into the inside of the jacket. The tag bears the Chrome Hearts brand name in that now world famous gothic font inside of the Chrome Hearts Scroll. Underneath the brand name is the date of creation, 1993.
A leather extension from the tag is marked M for Medium. Ive noted the condition of this jacket several times, but it is worth stressing yet again.
This jacket - is as close to mint as you will EVER see when it comes to the JJ Dean Chrome Hearts Leather Biker Jacket model line. The silver is RADIANT, not tarnished or dull. The leather is soft, malleable, clean, without stains, scrapes, tears, cuts, dullness, etc. The lining is flush, perfect.. Without flaws or blemishes of any kind.
The suede is deep black, crisp, unflawed. I would argue that of all the Chrome Hearts leather jackets Ive come across in my many years collecting, this is the most pristine. You simply dont see these jackets in this condition. Most people who manage to secure one of the jackets wear them year, after year, after year.
The former owner - is the anomaly additionally, upon deciding very shortly after that this jacket was too heavy for him - this piece was sent to his temperature/humidity controlled storage unit - where it remained untouched until just a few months back. It is, in every sense of the word, a wearable time capsule. For the Chrome Hearts collector, this is the piece that NOBODY else has, or will EVER have but that they will all desperately wish they had.
It is the Holy Grail of vintage Chrome Hearts no question. Shoulder to Shoulder: 19 Inches.
I will get back to you promptly. The item "Chrome Hearts Special Edition HEAVY SILVER 1 of 1 JJ Dean Leather Biker Jacket" is in sale since Tuesday, October 27, 2020. This item is in the category "Clothing, Shoes & Accessories\Men\Men's Clothing\Coats, Jackets & Vests".
The seller is "nae_mud_1iupyzywe" and is located in Chagrin Falls, Ohio. This item can be shipped worldwide.
Size: Medium
Model: Special Edition JJ Dean Biker Jacket
Department: Men
Fabric Type: Silk-Like
Season: Fall
Performance/Activity: Motocycle
Pattern: Solid
Type: Motorcycle Jacket
Color: Black
Vintage: Yes
Year Manufactured: 1993
Occasion: Concert
Brand: Chrome Hearts
Lining Material: Silk-Like Monogrammed
Insulation Material: Polyester
Size Type: Regular
Handmade: Yes
Character: Chrome Hearts
Accents: Solid Silver Zipper Pulls
Country/Region of Manufacture: United States
Style: Motorcycle Jacket
Outer Shell Material: Leather
Chest Size: 44 Inches
Product Line: JJ Dean
Theme: Rocker
Features: Zipper Sleeves
Warmth Weight: HEAVY Leather
Collar Style: Wing
Personalized: No
Garment Care: Dry Clean Only
Character Family: Biker
Closure: Lace-Up Sides
Manufacturer Color: Black
Helm: 17.5 Inches
Sleeves: 26.5 Inches
Shoulder to Shoulder: 19 Inches
Length: 24 Inches

---